By JOHN SELBY '15
Many of you have probably heard of HalloWeekends or maybe even Seven Floors of Hell, but have you heard of The Fear Experience? If you haven't, it's about time you do because this Haunted House is run by one of our own Ignatius men, Max Simon.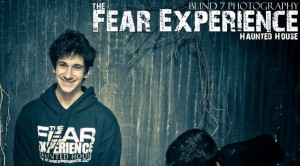 Max has owned and operated the Fear Experience for 5 years since he and his cousin, Nick, started it in 2008. The two got their start after Good Morning America hosted a competition for the best Haunted House on private property. The grand prize was $25,000, so the two boys were determined to make the best haunted house. They began by building 10,000 linear feet of Haunted House in Nick's backyard, and they hired a professional camera crew to the shoot the video they would have to submit. However, the video was so well done that the hosts thought it was a commercial haunted attraction, so the disqualified him.   As the old adage says, "when one door closes, another one opens."  The Fear Experience was born.
Since the time The Fear Experience began in Nick's backyard, it has changed locations almost every year. It was located in Toledo, then moved to North Olmsted for two years, and this year was hosted in Parma, which has quickly become their favorite location. Located at Tiedeman and Brookpark Road just off the Tiedeman exit on I-480, The Fear Experience occupies a former Value City Furniture building. The building contains over 90,000 square feet, which is a little smaller than a Home Depot, and the location was perfect because it is in one of the busiest parts of Parma.
The Fear Experience has three award winning Haunted Houses, but there are also many awesome entertainment features such as an all new Zombie Paintball Shooting Gallery, a Buried Alive Coffin Ride, fire breathers, an arcade, a professional photographer, live music from bands including Battlestar, and special guest actors Waylon and Stitch from Cleveland's very own Mushroomhead. This year, The Fear Experience had over 80 staff members, anywhere from actors to security to make-up, so the entertainment was always top-notch.
It was only $20 to get into the haunted houses and the Zombie paintball, and the rest of the entertainment– including the live music and fire shows– as well as the parking,was free. Max says that the money primarily goes to paying off their expenses of $100,000, and then he plans to use the rest of the money for the reinvestment in the future of the company and, of course, his college fund. When asked how long he was planning on operating The Fear Experience Max replied, "This year has been so successful, it'd be crazy for me not to continue. We're working on leasing our current location long term. I'd have to fly in every weekend from college, but it would absolutely be worth it."
People had a great time even if they weren't big fans of haunted houses. "I don't really like haunted houses and things like that," says Danny Dreiling '14, "but it was a lot of fun and I would recommend it." The Fear Experience is the only full contact Haunted House in Cleveland, meaning that the actors can and DID touch the people. This, according to Max, "adds to the excitement and intensity of the haunts." The combination of getting scares and actually being able to have some fun made The Fear Experience the real deal. •